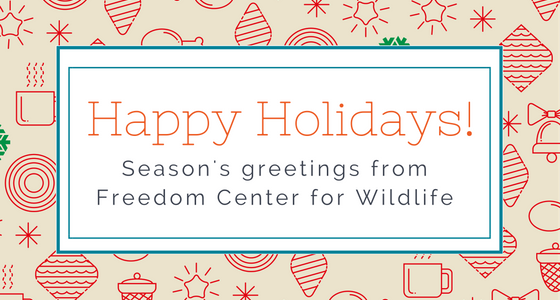 As another holiday season begins, we at Freedom Center wish to thank all of our supporters who have made a difference in the lives of animals across southern New Jersey. Without you, we would not be able to fulfill our mission and accomplish the work needed here in our area.
Over the years, we have received most of the more common animals seen at wildlife centers, including squirrels, opossums, rabbits, groundhogs, raccoons, ducks, geese, songbirds, owls and hawks. In addition to these animals, we have also received a turkey, a peregrine falcon, several species of bats, American crows, a baby beaver, baby skunks, and a more unusual golden crowned kinglet. While we hope to release every animal as soon as they are well, some must stay much longer with us because of the injury they received. And with winter quickly approaching, we will be receiving animals throughout this season that fall victim to vehicle collisions, starvation, hypothermia, and other cold-related issues. As you can see, we need your support all year round.
Our all-volunteer center is proud of the work we do and the animals and people we are able to help, but we always want to do more! Every dollar that we receive goes directly to the care of these animals. Please consider a tax-deductible donation this year to Freedom Center for Wildlife. Visit our website at www.freedomcenterforwildlife.org to donate through Paypal, or send your check to PO Box 2014, Cinnaminson, NJ 08077 today!
Need a last-minute gift? Visit our website and take a look as we have several options for you! Purchase a 2017 Wildlife Calendar through our website, or sponsor one of our Animal Ambassadors for the year.
We have a selection of Freedom Center for Wildlife t-shirts, featuring some of our Animal Ambassadors.
Order an Adoption Packet to sponsor one of our animals for the year! Receive a picture of your animal suitable for framing, including their story and natural history of the species!

We have beautiful hand-made wildlife ornaments from OwlfoxWorks. No two are alike!
It is with your help that we have made a difference in the lives of these animals. We thank you for your continued support and wish you a safe and happy holiday season!